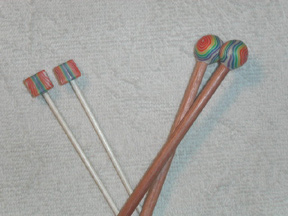 These are the first two sets of straight knitting needles I have completed.

This is the oak set. They are US 10 (6.5mm) that are 12 inches long.

This set is birch. They are US 3 (3.25mm) and are 10 inches long.

This is a top view of the ends of the size 3 needles. They are handmade natasha beads.
I'm planning on trying to sell them on ebay to see how they do. I'll let you know how it turns out.